View the most recent drafts of the Anti-Digital Grooming Legislation below.
Anti-Digital Grooming Bill Explained
Episode 1: What is
digital grooming?
Episode 2: Why is Smart Gen Society Spearheading this bill?
Episode 3: How does this legislature help protect vulnerable adults?
Episode 4: What does this legislation mean to you?
Episode 5 (Part 1): If it happened to me, it can happen to anyone.
Episode 5 (Part 2): How could this law have protected your daughter?
Episode 6: Why are you sponsering this legislation?
Shareables: Graphics you can download and share to your social media!
Complete a Letter of Support Now!
We will use these letters when presenting the bills in the Nebraska Legislature in January!
What is digital grooming?
The legal definition of grooming refers to the use of an electronic communication device to deliberately establish an emotional connection with a child to prepare them for sexual abuse. Abusers use manipulative behaviors to gain access to potential victims and their families to coerce them to agree to the abuse, which reduces their risk of getting caught.
Although there is no set playbook to grooming, the most common methods are:
Why is an anti-digital grooming law needed?
There are many laws against actual sexual abuse or the intent of abuse but very few regarding the manipulation and deliberate emotional connection set up by the offender to prepare the victim for sexual abuse. This legislation would create legal intervention earlier in the grooming process, preventing the intended abuse from occurring. The primary objective is passing an Anti-Grooming Bill in Nebraska to outlaw online grooming for the prevention of online sexual exploitation and stopping the creation of child sexual abuse material (CSAM).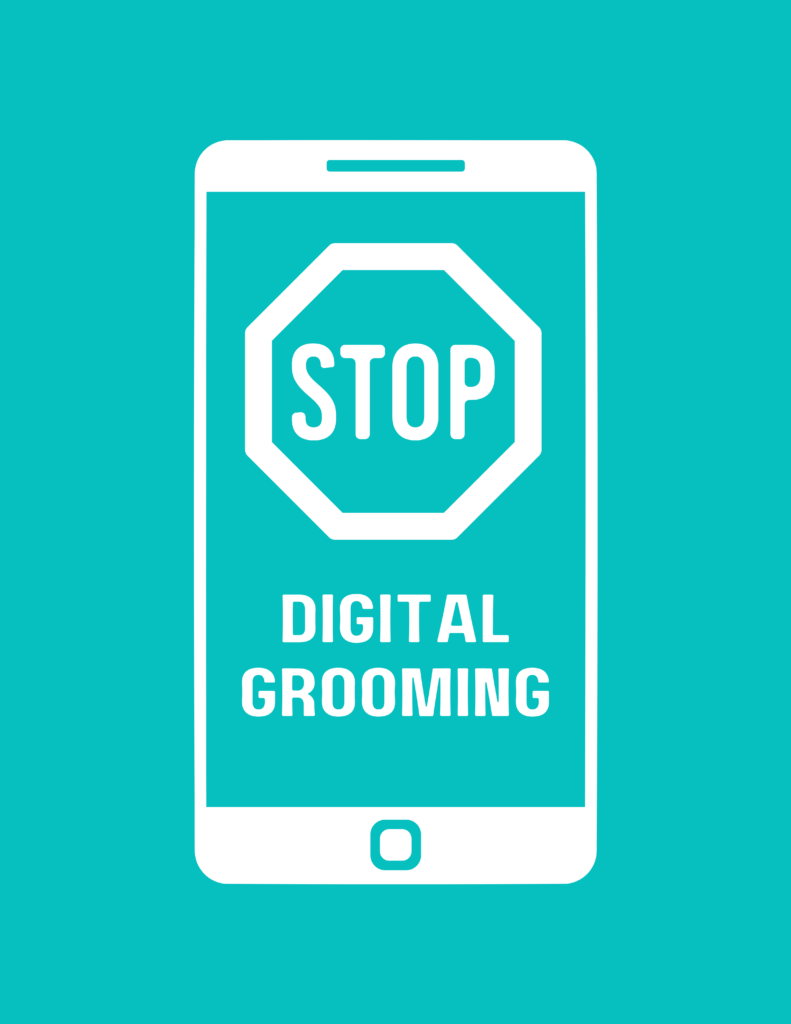 What Smart Gen Society is doing
Smart Gen Society is spearheading an anti-digital grooming bill that will be proposed in the 2023 Nebraska Legislative Session. This legislation aims to:
Define digital grooming under Nebraska law

Create statute criminalizing the use of digital grooming on minors under the age of consent and vulnerable adults

Expand on current laws outlining the procurement and sharing of CSAM
If you want to show support for this bill, there are a few things you can do.  
Monthly Update Email: If you are interested in joining our email list to receive updates on our work, please contact us. 
Letters of Support: We are collecting letters from our community to show local support on this issue. Email ADGB2022@gmail.com to receive a template or to submit completed letters of support.
Petition: Please sign our petition below. 
Visit Change.org to sign the petition.
#speak​.​up_be​.​heard. Fighting Digital Grooming of children in Nebraska
A trusted adult is supposed to be someone you can rely on and someone you feel safe with. 
When K.C. signed her daughter up to join the soccer team, she hoped to give her daughter a chance to reach her goal of playing college soccer. Instead, after years with the team, she discovered that her daughter was being groomed and taken advantage of by her coach, someone she was supposed to trust. 
"This news story is about my daughter… I never thought this would happen to us, to one of mine…  355 days have passed since I first spoke about my daughter's story. 50 weeks and 5 days, 51 Saturdays and 51 Sundays have all passed by, yet the reality of this nightmare still lives on," says K.C. 
This story is about one family. One family who trusted their coach to be just that. They never expected he'd be grooming their child through Snapchat, preparing her for sexual abuse. This story is one that represents many. Many similar cases of digital grooming occur every day on any of the many social media and gaming platforms we use to keep a constant connection.
"Today, I sat in a small courtroom and listened as the prosecutor read through the charges; Attempted Child Enticement with the use of electronic devices. She read through some of the evidence and stated Coach admitted to detectives that he was enticing my daughter, agreeing the comments and Snapchat messages were sexual in nature. Today he plead no contest, Guilty. He had plans to sexually assault my daughter. Even worse, she was not the only one. There were other girls; some recent, some from years back, and some who did not want to come forward. My daughter was not his first 'hot sexy favorite' but she will be his last." K.C. shares. 
The legal definition of grooming refers to an act of deliberately establishing an emotional connection with a child to prepare them for sexual abuse. Grooming may occur online or in person. It is usually done by someone the victim already trusts, such as a coach, teacher, family member, etc.
Many survivors, like K.C. and her daughter, know just how scary and common these situations have become. "This is real" K.C. says, "and it happens to 1 in every 4 girls. In the last year, my daughter has heard from numerous girls with similar stories, some even too afraid to come forward. Child grooming happens every day. Now is not the time to be silent and stand in the shadows. I share this with you because I have a daughter who is not a victim but rather an advocate. We stand together to protect yours." 
There is no set way that an offender may groom a child. Still, it is most common that the abuser uses some or all of the following tactics to gain access to their victim and their victim's families:
Targeting the victim
Gaining the child and their caregiver's trust
Filling a need
Isolating the child
Sexualizing the relationship
Maintaining control
K.C. recalls finding out about the use of grooming tactics on her daughter. " I can clearly remember every detail about that night when I first heard that my daughter's soccer coach was sending inappropriate messages to her. How could a man we trusted, a man who has coached girls soccer for years, a man who is married with his own children, do this to my daughter? I remember where I was sitting when I told her we needed to call the police. I remember the officer calling the detective to the house, saying 'this is serious'. I remember listening as she told them everything; the comments Coach made on her body, asking to send him "juice" pictures of her buttock, calling her his hot sexy favorite, telling her that he loved her, wishing he was the popsicle she was eating and how he wanted to "do" her. I remember exactly how I felt, and still to this day, I feel the same stabbing, gut-wrenching pain." 
After being connected with federal law enforcement, the FBI turned to Smart Gen Society to help the family through the case. Smart Gen Society is a national nonprofit based in Nebraska whose mission is to empower smart choices in the digital world. They provide education around digital self defense and work one on one with victims of online exploitation. They also offer restorative justice services like mediation and advocacy with law enforcement and through court processes. Smart Gen Society aims to advocate for these youth and to push for more informed laws and protections for children online. When it came to the case with this family, it became clear that more needed to be done to address this rising concern. 
Grooming is a gateway to abuse, and within current Nebraska law is entirely legal up until sexual violence occurs, at step 5 of the grooming process. However, there are very few laws regarding the manipulation and deliberate emotional connection to prepare the victim for sexual abuse, also known as grooming. If the law reflected these patterns, many instances of grooming could be stopped early on before any sexual violence occurs.
All grooming does not happen online, but according to the National Center for Missing and Exploited Children there was a 97.5% increase in online enticement reports from 2019 to 2020 and 98% of reported offenders were seemingly unknown to the child victim offline. We aim to end this grooming by passing an Anti-Digital Grooming Bill in Nebraska, similar to the ones already passed in Illinois, Alabama, and Minnesota.
By signing this petition, you will be helping Smart Gen Society and other supporters to put legislature in place to charge any person 19 years of age or older who knowingly uses the internet, an electronic device capable of transmission of any writing, sounds, images, or data with the intent to arouse the sexual desire of any person involved in the communication, to commit any of the following acts: seduce, solicit, lure, entice, or attempt to seduce, solicit, lure, or entice a child or someone the person reasonably believes is a child, to engage in sexual conduct.
K.C. says " I am forever grateful that we stopped this before it went further. How did it even get to this point? How do we protect our children when anyone can friend them on social media? Why do I sign photo permission forms for the school to use photographs of my child, but her coach can have hundreds of photos of her without my consent? How is it acceptable for a 47- year old man to have over a 400- day Snapchat streak with my 13- year old?" 
Our primary objective is to pass an Anti-Digital Grooming Bill in Nebraska to outlaw online grooming for the prevention of online sexual exploitation and to stop the creation of child sexual abuse material (CSAM). Thank you to those who have reached out to us and shared their personal stories. There is power in standing together. 
According to Bonnie Moore, Chief Deputy Sarpy County Attorney "Youth athletics should be a safe place for all children. Instead, Marek used his role as a coach to gain influence and access to these victims. It took a lot of courage for these victims to come forward, and hopefully, their actions will inspire others to speak up,"
As we stand and tell our story, we fight for your daughter, for your son, for our children. Stand with us.
#speak.up_be.heard
Contact investigator Matt Barrall if you have further information on Kyle Marek, know of any of the situations from previous roles, or have been a victim in the past:  402-593-4163. mbarrall@sarpy.com 
If you are a victim or think you may have been a victim of sexual assault and need assistance, please call 1-800-656-4673.